The energy production industry requires durable, high-quality products to withstand the punishing conditions seen in resource extraction. Known for its ability to endure harsh environments and extreme conditions, knitted wire mesh is trusted in specific oil and gas processes. CWI Tech-Mesh™, a knitted wire mesh product line created for just these challenges, provides the industry's quickest-turn solutions for customized and OEM scrubber and separation filter applications.
Located in Houston, Texas, CWI Tech-Mesh™ utilizes state of the art knitting equipment to maintain quality control and to maximize separation efficiency in all its products. Supported by on-site knitting, welding, and assembly, CWI Tech-Mesh™ uses only made in the USA products provided from Central Wire factories to manufacture finished filtration products to your specifications. And with multiple alloys and diameters in stock, you may find that we deliver a ready to install product to your job site before most OEM's have even returned your phone call!
Applications we support:
Demister Process Applications

Gas-Liquid Separators

Process Absorbers, Precipitators, and Scrubbers

Chemical Separators and Extractors

Combustion Gas Scrubbers

Pollution Control Equipment

Two-Phase Eliminators
Alloys we stock:*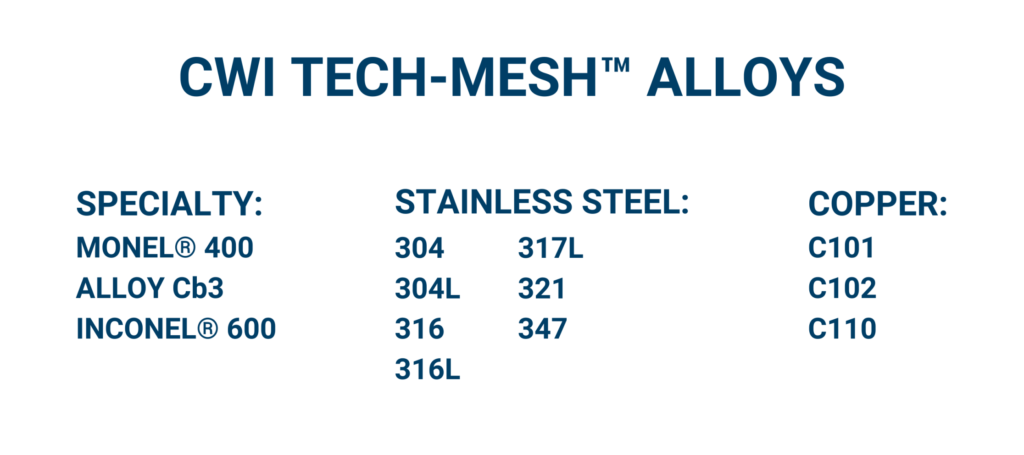 Service and Support
Whether you are replacing a current filter or rebuilding an entire system, CWI Tech-Mesh™ knitted wire products should be part of your solution. Start a quotation today and see for yourself the benefits of quick-turn, high quality, Made in the USA products in your application. CWI Tech-Mesh™ has the engineering capabilities to help customers fabricate the right solution for their particular application, not just manufacture to predetermined specifications. With all our core products produced in-house, we can offer full support when choosing the right wire grade for your exact requirements.